NEWS! VIEWS! CLUES!

FOR THOSE THAT GAVE
THEIR LIFE SO THAT OUR TASK MAY CONTINUE
FHP Troopers Killed in the Line of Duty
| | | |
| --- | --- | --- |
| Luther P. Daniels | Leroy C. Bender | Halley C. Strickland |
| Edwin J. Gasque | Sherman L. Scott, Jr. | Joseph N. Sawtell, Jr. |
| Joseph Paul Bertrand | John C. Hagerty | Herman T. Morris |
| Charles W. Parks | Claude H. Baker | Ronald G. Smith |
| Wilburn A. Kelly | Charles E. Campbell | Kenneth E. Flynt |
| Phillip A. Black | Richard D. Howell | Bradley S. Glascock |
| Elmer C. Barnett | Alvin V. Kohler | Robert P. McDermon |
| Cleo L. Tomlinson, Jr. | Merle J. Cook | Robert L. Pruitt |
| Frederick J. Groves, Jr. | Lindell J. Gibbons | John C. Baxter, Jr. |
| Stephen G. Rouse | Jeffrey D. Young | Milan D. Hendrix |
| Benedict J. Thomas | James H. Fulford, Jr. | Kimberly A. Hurd |
| Saxton R. Jones | Donald E. Jennings | Robert G. Smith |
| James B. Crooks | | |

______________________________________________________________
HELP!!!!
I HAVE ACQUIRED SEVERAL PHOTOGRAPHS AND WOULD LIKE TO KNOW MORE ABOUT THEM. TAKE A LOOK AT THEM AND LET ME KNOW IF YOU HAVE ANY INFORMATION REGARDING THEM.
THIS PHOTOGRAPH IS OF A FLORIDA HIGHWAY PATROL STATE TROOPER AND ANOTHER POLICE OFFICER INVESTIGATING A CRASH. THE BACK OF THE PHOTOGRAPH HAS A DATE OF AUGUST 02, 1966 AND HANDWRITTEN "OFF THE OVERPASS" AND LAKE OR LUKE ????"
IT LOOKS LIKE FELS, TUELS, TEELS OR SOMETHING LIKE THAT.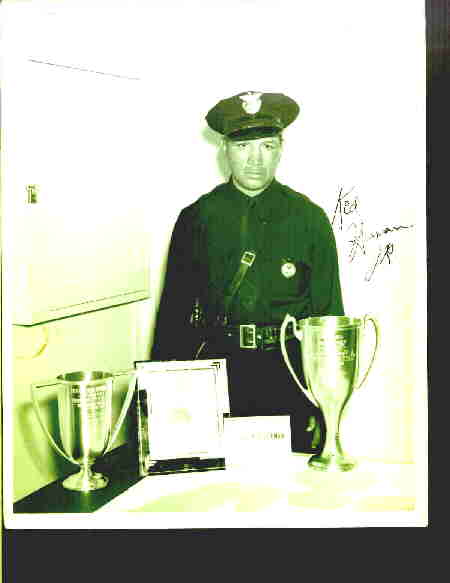 THIS PHOTOGRAPH IS SIGNED BY KID HERMAN JUNIOR. IT DEPICTS HIM WITH TWO TROPHYS AND A PICTURE OF HIM BOXING. THE TITLE CARD READS "WON BY TILLIE KID HERMAN 1917-1918 FIGHTS STAGED FOR THE BENEFIT OF THE BOYS OVERSEAS. I DON'T KNOW IF HE WAS A POLICE OFFICER OR AN ARMED SECURITY GUARD. THE BACK OF THE PHOTOGRAPH IS STAMPED "OFFICIAL PHOTOGRAPHS AIR PLANT PROTECTION BRANCH, SAN ANTONIO AIR DEPOT, DUNCAN FIELD, SAN ANTONIO, TEXAS.